Indoor Air Quality for Sustainable Buildings --  BuildingEcology.com for useful and reliable feature articles, for the latest news and events listings. Check out our links to the best information on Indoor Air Quality and Sustainable Buildings on the web. Our "events" page links you to IAQ and to Sustainability meetings and conferences all over the world.We invite your suggestions and comments on our resources related to indoor environmental quality, architecture, healthy buildings, and the built environment's impacts on the sustainability of human settlements.
BuildingEcology.com intends to be the best source on the web for reliable, up-to-date information for all concerned about Indoor Air Quality and Sustainable Buildings.
There are many pitfalls in these new and rapidly changing fields. Simple answers can often be as dangerous as they are easy. We will tackle the tough problems and bring you the most comprehensive and useful information available. We will translate the latest scientific information and professional practices into the most accurate and useful information for serious building design professionals, consultants, building owners, manufacturers, policy-makers, and anyone else who won't take oversimplified, easy answers to the tough questions.
BUILDING ECOLOGY -- MAKING THE CONNECTIONS
You can find a short primer on connections in the indoor environment here. A shorter, purpose-edited version is available here.
You will find example of how air, surfaces, chemicals, and indoor environmental characteristics interact to create the conditions that affect our health, comfort, and well being. Among the important interactions are those of chemicals on surfaces, especially biocides, and the microbes (bacteria, fungi, and viruses) found in the indoor environment and of greatest concern for human health.
Biocides (antimicrobials, pesticides, etc.) are chemicals, often applied to surfaces to kill bacteria, viruses and fungi. If we sample a surface for microbes without any information on the chemicals applied there, we know much less about the indoor microbiome than we need to move toward the creation of healthful indoor environments. Understanding the indoor environment and how it affects our health requires bridging across disciplines and connecting the knowledge each can bring.
Connecting The Dots: Microbes and Building Factors
There is probably no better evidence of the inter-connectedness of the large variety of factors in the built environment that can affect occupants' health and the integrity of the building itself than the relationships between the built environment and the microbes that occupy buildings. This is the ultimate case of "building ecology" - the dynamic inter-dependence of the building, its occupant and the larger environment.
Learn more about these links in the report and participate in the webinar presenting the report from the National Academy of Science/Institute of Medicine report on the "Microbiome of the Built Environment."
http://www.buildingecology.com/news/microbiome-of-the-built-environment-new-report-and-webinar
You can download a free copy of the report from here.
As a member of the study committee, I was assigned "water" as a topic and learned that there are some very wicked problems to reduce illnesses that are caused by organisms that are commonly found in public water supplies and/or grow in "premise plumbing", the water heating and distribution system in buildings of all types.
Personal view: Lamentably, there is no recommendation for research on how to assist individuals of low income, especially renters, when their homes are damaged by flood waters. Hopefully, the response to the current flooding in Houston will result in a response that addresses the needs of those who need help most and can least afford it. If you have some suggestions, please send me an email and I will forward it to the studies several sponsors. 
1) There is not an clear call for research to assist in interpreting results from studies or investigations of the microbiome of a building. 
2) While next generation sequencing is cheaper and faster than culture-dependent methods, the linkage between results and their meaning is not currently addressed effectively. 
3) Probiotics are being marketed without sufficient information on their relationships to the community of microbes that live in and on us humans.
Report is Available for free download Microbiomes of the Built Environment: From Research to Application
Short course in indoor environment - indoor air quality
Keynote lectures form the background for these freely accessible papers in the February 2016 issue of the journal Indoor Air.
Read and download them all at here
OR, click on the article titles below for direct links to the  articles...
Editorial
Keynotes: Indoor Air 2014
The Construct of Comfort by W.S. Cain



This important paper is now downloadable from this web site.
The Construct of Comfort download
Re-constructing Thermal Comfort by Hal Levin
Paper submitted for presentation at the 9th Windsor Conference on Thermal Comfort: "Making Comfort Relevant"
Re-constructing thermal Comfort download
ABSTRACT:
"Thermal comfort" is a, socially- and culturally-determined construct widely used as the design basis of buildings intended for human occupancy. Design for thermal conditions and energy use dominate engineering design to meet consensus and regulatory building design guidelines. While early commentaries by meteorologists focused on human health impacts of thermal conditions, more recently, meteorology has focused attention on thermal comfort requirements and their contribution to increased atmospheric concentrations of greenhouse gases. Global warming concern has stimulated widespread engineering efforts to increase energy efficiency. Examination and refinement of the thermal comfort model is the subject of substantial research activity with conflicting and, at times, indicting results.  Responses from mostly non-engineering stakeholders focus on examination of alternatives to the model with its flawed input data, virtual neglect of important factors, and the construct's implicit assumptions that drive building energy use. Commentators question the construct and the process by which it should be determined or applied. Exploration of the construct and alternatives have important implications for environmental policy as well as human relationships to the buildings we occupy. Application of the standard throughout the world is simply unsustainable. The time has come for re-evaluation of the construct "thermal comfort."
Helsinki Alert of Biodiversity and Health
A valuable resource for those trying to interpret results from indoor microbiome studies.
Review Article: Helsinki alert of biodiversity and health,  Annals of Medicine, 2015; Early Online: 1–8. (doi: 10.3109/07853890.2015.1010226)
Downloadable from here 
Review Article: Helsinki alert of biodiversity and health
Abstract:
Urban living in built environments, combined with the use of processed water and food, may not provide the microbial stimulation necessary for a balanced development of immune function. Many chronic inflammatory disorders, including allergic, autoimmune, metabolic, and even some behavioural disorders, are linked to alteration in the human commensal microbiota. Sedentary lifestyle is associated with reduced exposure to a broad spectrum of environmental micro-organisms and surplus energy balance, both risk factors of chronic inflammatory disorders. According to the Biodiversity Hypothesis, an environment with iverse macrobiota and microbiota modifi es and enriches the human microbiota, which in turn is crucial in the development and maintenance of appropriate immune function. These issues were discussed in the symposium ' Chronic Inflammation, Lifestyle and Environment ' , held in Helsinki, 20 – 22 August 2014, under the sponsorship of the Yrjö Jahnsson Foundation. This paper briefl y outlines the recent fi ndings in the context of the environment, lifestyle, and health; discusses the forces that undermine immune tolerance in urban environments; and highlights the possibilities to restore broken immune tolerance among urban dwellers, summarizing the main messages in four statements and calling for actions to combat major public health threats.
Key messages
Biodiversity, the immune system, and health are interconnected.
Indigenous microbiota is a central player in this interaction.
All that we eat, drink, touch, and breathe is reflected in our indigenous microbiota.
Authors:  Leena von Hertzen, Bruce Beutler, John Bienenstock, Martin Blaser, Patrice D. Cani, Johan Eriksson, Martti Färkkilä, Tari Haahtela, Ilkka Hanski, Maria C. Jenmalm, Juha Kere, Mikael Knip, Kimmo Kontula, Markku Koskenvuo, Charlotte Ling, Thomas Mandrup-Poulsen, Erika von Mutius, Mika J. Mäkelä, Tiina Paunio, Göran Pershagen, Harald Renz, Graham Rook, Maria Saarela, Outi Vaarala, Marc Veldhoen, and Willem M. de Vos.
Downloadable here 
Fungal secondary metabolites as harmful indoor air contaminants
Extremely important: newly published article by J David Miller and David R. McMullin, "Fungal secondary metabolites as harmful indoor air contaminants: 10 years on." Appl Microbiol Biotechnol, DOI 10.1007/s00253-014-6178-5. For me personally, the paper makes a strong case for the link between airborne chemicals and their relationship to moldy buildings and human health.
Increases the already strong evidence that damp buildings are risky.
Abstract "From the epidemiological studies conducted on the effect of mould and dampness on health a decade ago, the role of toxin-producing fungi in damp and mouldy buildings involved opinion more than evidence. Very little was known about the metabolites that were produced by the fungi that grew on damp building materials, and almost nothing had been reported on their occurrence in buildings. As a consequence, the focus was on speculations involving the fungal toxins that occur in agriculture. Over the past decade, particularly in the last 5 years, considerable progress has been made concerning the relevant toxins from fungi that grow on damp building materials. This paper summarizes the available data on the low-molecular-weight toxins reliably known from fungi common on damp building materials, the toxins that have been measured on mouldy building materials and the new understanding of the role that they play in the documented health effects of individuals living and working in damp and
mouldy buildings."
From the Conclusions:
"'nontoxic strains' of S. chartarum sensu lato were producing atranones which, although are not cytotoxic, are potently inflammatory (Rand et al. 2006)." "The development of high-resolution LC-MS/MS methods has allowed the determination of fungal toxins on building materials (Nielsen and Frisvad 2011) and in settled dusts (e.g. Täubel et al. 2011)."
"Finally, a diverse array of metabolites from fungi common on building materials and triple-helical glucan have been tested for their effects on lung biology in relevant animal models. These have revealed that toxin doses that could be achieved in damp residential housing modulate genes that are in asthma pathways."
"The next decade of research will illuminate the significance of this information."
State of California Releases an Important New Green Building Document CALGreen
The State of California Department of General Services released their policy that provides direction to state agencies that build, lease and operate state buildings, on reducing indoor pollutant levels and ensuring healthful indoor environments for occupants in new, renovated, leased, and existing state buildings, as directed in Governor's Executive Order B- 18-12 and the Green Building Action Plan.
To read more about and download the document, click here.
Indoor Environment and Indoor Microbiome



Check out our new feature full of resources for studying the indoor microbiome here.
We will be adding resources to help researchers and professionals who want to study the indoor microbiome with an emphasis on culture-independent methods. We will share the results of our work during the past three years with funding from the Alfred P. Sloan Foundation through the microBEnet project at the University of California.
Our site will supplement (and complement) the microbe.net web site with information intended primarily for those who want to understand the indoor microbiome as part of the building as an ecosystem.
Nothing exemplifies the building as an ecosystem or the usefulness of the construct "building ecology" better than the complex dynamics of the built environment and the indoor microbiome. We hope this additional resource will assist those eager to advance our understanding of the indoor microbiome as a "normal" and important (essential?) part of the indoor environment.
Please send us your comments and suggestions, references, and other resources you would like us to share with other visitors to our site.
If you haven't signed up yet for our eUpdates, a newsletter that will let you know when new resources are added, you can do so at the link at the top of the right hand column of this page.
Indoor Environment and Indoor Microbiome Database -- Available for Free Download
More than 360 articles that contain information on the indoor microbiome and the indoor environmental conditions reported by the authors. Full abstracts are included. The database is in MS Access format and simple or complex queries can be made using the database in Access. We are looking for ways to make it more widely available. It was supported by the Alfred P. Sloan Foundation's grant to UC Davis' microBEnet project, Jonathan Eisen PI. We also have prepared a How-to file for those not familiar with constructing searches in databases. It is also downloadable. You can downloaded it from the article entitled "How to use the Indoor Environment-Indoor microbiome database."
Click here to download the database
Click here to download the database curation process
Click here to get the spreadsheet version

Click here for Bibliographic info with abstracts_in pdf_140619
NPR Animation of the Human Microbiome
A video from NPR about the human microbiome that is worth taking a look at.
Quick Tips
Quick tip:  Why do people living in damp buildings get sick? Is it the mold, the bacteria, or the combination?
The scientific evidence for a connection to moisture is the strongest. There is some evidence for certain species of mold and bacteria but it is generally far weaker for mold and bacteria. An exception, of course, is Legionella p, the cause of Legionnaire's Disease, but exposure to Legionella p. may not be dominated by bacteria found in the air.  There is increasing evidence that  molds and bacteria are involved together, not as separate "causal factors." Scientific studies that look for associations between only mold or only bacteria may not find strong associations. Moisture is clearly relevant to the microbial exposures causing the reported health effects.
Quick tip:  What is the  biggest mistake have we made over the past 30-40 years that we should not repeat if possible?
I think it may be the separation of ASHRAE Standard 62 (Ventilation and IAQ) and Standard 55 (thermal comfort). Both IAQ and thermal comfort are affected by and ought to be addressed by the same building design and operational solutions. ASHRAE Guideline 10-2011 tries to get at these connections and interactions for the first time anywhere, well, except for papers I wrote a long time ago. ASHRAE Guideline 10, now available for purchase on the Publications page of the ASHRAE web site, brings together a lot of what we know about the interactions and also discusses interactions with light and noise. There is far less known than we would like, but far more known than we tend to reflect in our standards, codes, and practices. If you know of some other connections, please send us an email. We will be grateful for your help.
ASHRAE Indoor Air Quality IAQ Design Guide Now Available for Free
The American Society of Heating, Refrigerating and Air Conditioning Engineers (ASHRAE) is now making the IAQ design guide and all of its reference materials available to the public at no cost through its web site.
The Indoor Air Quality Guide: Best Practices for Design, Construction and Commissioning is designed for architects, design engineers, contractors, commissioning agents, and all other professionals concerned with indoor air quality.
Click here for more information.
Microbiology of the Built Environment
Everywhere we turn there are microbes (living organisms so small we cannot see them without magnification): in our cars, houses, offices, water pipes, and in every nook and cranny of our bodies.  Most are harmless, but some can make us sick or cause other damage.  Some even play a role in protecting us and our creations from the depredations of others.  Most of these microbes are still unknown and uncharacterized.
Over the last 20-30 years scientists have made revolutionary progress in understanding microbes in so-called "natural" systems. We have studied microbes in oceans, soil, and hotsprings, as well as those that live on and inside plants and animals. Little attention however has been paid to the microbes that live in the "unnatural" indoor world around us: in our buildings, planes, trains, and cars, where most of us spend more than 90 percent of our lives.  These are the microbes of the "built environment".
Thanks to continuing advances in DNA sequencing technology, and a recent initiative by the Alfred P. Sloan Foundation, this gap in knowledge is beginning to be addressed. The effort to better understand the built environment has implications for engineering and architecture, biodefense and forensics, and has even produced the concept of probiotics for buildings.
Building Ecology - A short course
It is common to assume that buildings are simply inanimate physical entities, relatively stable over time. This implies that there is little interaction between the triad of the building, what's in it (occupants and contents), and what's around it (the larger environment). We commonly see the overwhelming majority of the mass of material in a building as relatively unchanged physical material over time. In fact, the true nature of buildings can be viewed as the result of a complex set of dynamic interactions among their physical, chemical, and biological dimensions. Buildings can be described and understood as complex systems. Research applying the approaches ecologists use to the understanding of ecosystems can help increase our understanding.[1]  "Building ecology " is proposed here as the application of those approaches to the built environment considering the dynamic system of buildings, their occupants, and the larger environment. Read more...
Moving Beyond TVOC - Reasons to avoid the use of TVOC as Pass/Fail criterion for assessing VOC emissions from products
by Al Hodgson, Co-founder and Research Director, Berkeley Analytical Associates
Total Volatile Organic Compounds (TVOC) has a long history as a metric for determining the acceptability of the emissions of VOCs from building products and furnishings. The first significant program to rely on a TVOC criterion was the Carpet & Rug Institute's (CRI) Green Label Program that evolved out of the Carpet Policy Dialog between the carpet industry and the US EPA. The TVOC criterion was later incorporated into the U.S. Green Building Council's LEED rating systems and was adopted by the commercial furniture industry. More recent VOC emission test method and acceptance standards have focused instead on individual VOCs that may pose health hazards to individuals at low concentrations. Examples of such programs in North America are the California Department of Health Services' Standard Practice (a.k.a. Section 01350), which recently was revised to Standard Method Version 1.1, and CRI's Green Label Plus program. TVOC values are still reported, but pass/fail determinations are based on the emission levels of individual compounds of concern. There is an urgent need to expand such determinations of acceptability beyond a select number of individual VOCs to encompass the broader range of chemical emissions that may impact health. TVOC is again being proposed to fill this gap and may be appealing to many because of its presumed simplicity. In my opinion, we should avoid this temptation and move on the more difficult, but certainly achievable, task of focusing on the toxicity of individual compounds. The following are my primary arguments against the use of TVOC as a Pass/Fail metric.  Read more...
Energy Principles in Architectural Design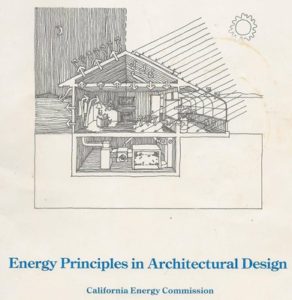 By Ed Dean was published in 1981 by the California Energy Commission to provide a basis for California's licensed architects to learn about energy. The California State Board of Architectural Examiners was considering a continuing education requirement for license renewal, and it was thought that the guide could be the basis for the exam. Read more...
Target Resources and Emissions Budgets for Healthy and Sustainable Buildings - slideshow
Sustainable buildings are more than an assortment of "green building" features. Building design and actual performance must be compared to benchmarks or targets for a truly sustainable environment in terms of resource consumption and pollution emission. View the slideshow here.
California Greenhouse Gas Tool for Buildings

California's Greenhouse Gas (GHG) tool for California is now available on the web -GHG Tool for Buildings in California. The tool is publicly available and free for download.
This is a major step forward, the first tool that provides time- and weather-resolved GHG emissions calculations.   Read more...
IAQ and Plants
The idea that plants clean indoor air is a sad, continuing saga fed by bad science, commercial interests, and wishful thinking. I published an article in the Indoor Air Bulletin on the subject in 1992 (available on this web site) that provides some details.
Take home message:
1. Don't use plants to improve IAQ. They don't. If anything, they pose risks to good IAQ.
2. There is no credible scientific evidence that plants improve IAQ. The planting media has been hypothesized to be responsible for pollutant removal in some studies. The planting media alone can be expected to contribute to a limited reduction in some airborne chemical concentrations.
3. Most advocates of indoor plant use have been funded by or are themselves providers of plants or supporting systems.
4. If plants are used indoors for aesthetic reasons, there should be extra care to avoid moisture problems or problems with fertilizers and pesticides, all known sources of indoor air quality and health problems.  Read more...
| | | |
| --- | --- | --- |
| Resources | eUpdate | Building Ecology Research Group |
| The most reliable Indoor Air Quality information source on the web. Publications, presentations, and other information. Links to the most reliable web sites and useful information on indoor environmental quality, IAQ, and sustainable building practices. No membership is necessary to access the resources | Free! Sign up now to receive our eUpdate for the latest on BuildingEcology.com. Continuing the outstanding reporting and insightful feature articles established by Hal Levin as editor of two highly-acclaimed newsletters. The eUpdate brings the latest news, latest articles, and events. It's free!! | Download Hal Levin's papers and presentations. For more than 40 years we have helped hundreds of organizations on 5 continents create environmentally-responsible, healthy buildings. We focus on "Building Ecology" -- the relationships and connections between buildings, occupants, and the larger environment -- emphasizing indoor environmental quality and sustainability. |